Group First Aid, CPR and mental Health First Aid Courses Australia-Wide,
Cardiac arrest is a medical emergency that can lead to death. CPR makes survival possible.
This course will provide you with everything you need to know to deal with common illnesses and injuries.
This course is designed for people who work in an education and care setting with children
We have been teaching first aid in all its various forms for many years now. We are so ready to meet you and your colleagues and get your workplace first aid certificates done and dusted as quickly and seamlessly as possible.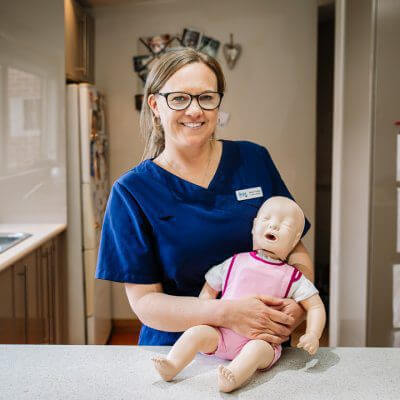 Hi there, I'm Heidi. Founder and Managing Director of The First Aid Nest.
I have been a registered nurse for over 20 years now. I have first hand experience seeing the result of many workplace accidents. Our job is to make your workplace first aid as swift, interesting and fun as possible.
Fantastic! Really enjoyed it. Some companies make it boring but really enjoyed it.
Rebecca, my trainer, was knowledgeable, caring, and well prepared. Her presence aleviated any performance anxiety I had. She welcomed questions and answered them appropriately. She gave examples from real life which made the training more relevant for my work.
Great course and great content, delivered in a fun and professional way.
I thoroughly enjoyed my training facilitated by The First Aid Nest. The content was detailed and easy to access at home via an online platform with up to date information which I could easily apply to my day to day work as a Registered Nurse.
Sarah was an awesome trainer.
Sarah was great, she made the training easy to do and understand. She was very friendly, approachable, and funny. I really enjoyed the morning, as did all of my colleagues.
Great experience, trainer was happy in her job, which makes it more interesting to take part and focus on the task.
Great trainer and excellent course content. Very thorough and well delivered.
Are you a parent or carer? Looking for baby and child specific first aid? Click the button below.
Workplace and Family First Aid Kits Available.